I've been struggling a bit this week, craving a sandwich and hunger pangs have been back.
I'm having to examine closely whether I'm actually hungry or if it's the old habits (eating a certain way at a certain time) clinging on.
Of course, it IS the old habits! I'm getting more quality nutrients now, and paying closer attention to micro nutrients than I ever did before so I know I'm "nourished".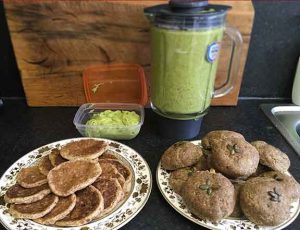 Rather than fall off the wagon, I ate more fat bombs and put oil in my drinks. Yes, it put the calorie count up, but staying in Ketosis is more important.
I decided to cook up a storm of satisfying foods to see me through.
Not all for me, my son and daughter are also transitioning!
Pancakes, bread rolls, guacamole, and a batch of soup should do a few days. I also made some seeded vegan burgers to go with the buns.
The soup was what I call  "bottom of the fridge". All the veg that needed to be used up went in there
broccoli
chard
shallot
bell pepper
American land cress (peppery)
mushrooms
cauliflower
I added a bit of dried chilli and some veg stock, whizzed it up when it was all cooked.
Next time I'll do the weighing thing and add it to the recipe section.
End of the week
Feeling better now, hunger pangs and cravings have gone so my cook off worked!
Today (Sunday) I had a challenge….a vegan keto chocolate birthday cake. Did I manage it? Of course I did…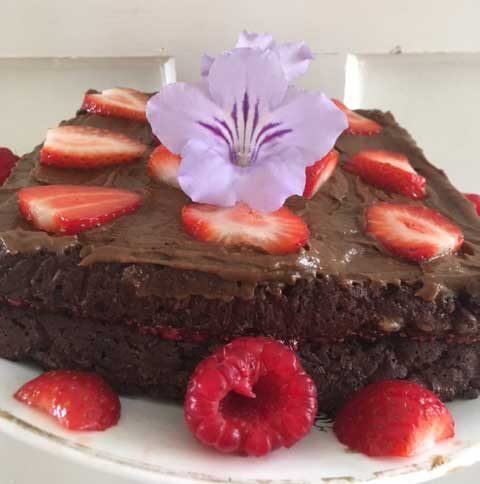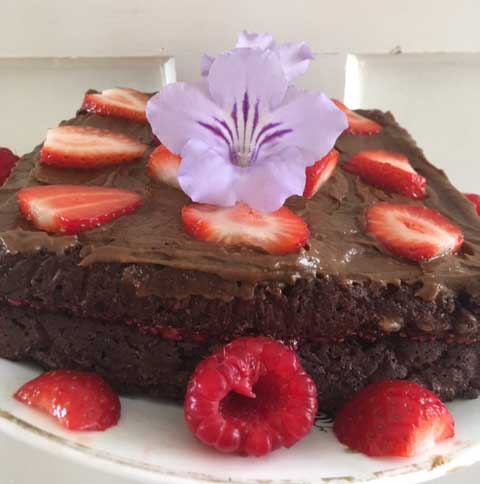 There were 3 components to it and I'll be adding them to the recipe section this week.
Keto Raspberry Jam, keto chocolate brownie and chocolate ganache. The jam was super simple, made with erythritol (powdered) and chia seeds!
I haven't worked out the total carbs, but probably around 3 or 4 net carbs per slice.
On a final note for this week, I managed to run, actually run, across the field with my granddaughter. Unheard of, only thing is, I think I need to deal with the bra thing, boobs were swinging a bit too freely!