Time for a vegan keto journey update, it's been a few weeks since my last one, nearly a month!
I've been so busy with all the extra energy I have the time has passed very quickly.
One of the problems people have when they first start is a menu with recipes. With the holiday season fast approaching I've been working hard on a vegan keto festive menu.
The menu is full of goodies and I think there are a few recipes that non-keto vegans will love too.
It includes a Macadamia Savory Nut Roast, Lemon Shortbread with Chocolate Mousse, Avocado with Curried Brazil Nut stuffing, Truffles (yes, you heard right!), to name but a few.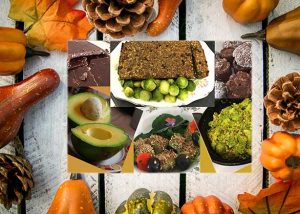 It's a real challenge keeping the net carbs low enough so everything can be sampled, but so far, everything is looking good for a low carb holiday season.
I'm continuing to lose fat, and my energy levels are good. I still log my food in cronometer.com every day to keep an eye on nutrition levels. I don't want to undo the good work by neglecting vital nutrients!
Travelling to Australia from the UK on a vegan keto diet
My next challenge is my flight to Australia on Monday 30th October. I'm flying with Emirates and they have a range of menu choices.
They have a vegetarian Jain menu, which is vegan with no root veg. I should be able to eat some of that. I've also bought some mini sachets of coconut oil for traveling to put in coffee.
I'll pick up some nuts, but I don't really get that hungry now so rarely snack.
My daughter (who I'm visiting) is also Keto and loves to cook, so watch out for some videos, fun in the kitchen!
If anyone has any travel suggestions, I'll be happy to hear them.
I'd love to take some of my very excellent pancakes with me, but I doubt I'd get past security, open food is frowned upon!
Suggestions welcome!
Also, if there are any recipe suggestions for the festive menu, drop a note in the comments below and I'll see what I can do.
The festive menu should be ready by the end of next week, watch this space……