It's a while since I posted an update so I thought it was time for an update on my vegan Ketogenic lifestyle!
And a lifestyle it has become for me, I can't imagine going back to my pre-vegan keto diet.
So, what's been happening on my vegan keto journey?
Well, I went to Australia for a month but, had to go a few days late as I picked up a nasty tummy bug from my Grandaughter. vomiting on a grand scale and enforced fasting!
Eating keto foods was a challenge during the journey so I had to do a bit of a "carb up". A small amount of rice and chickpea curry was the offering on board the flight. I chose a Vegan Jain meal, which is strict vegan and no root veg, it was the best I could do.
I purchased some mixed nuts to take with me and the Emirates lounge had mixed nuts at their food counters. There were also olives, mixed salad and a jug of olive oil. I did get some strange looks when I poured oil over everything then put some in my coffee!
On my arrival at my daughter house, I took a blood ketone reading, still in ketosis, so not bad all things considered.
Creating a Vegan Keto Book!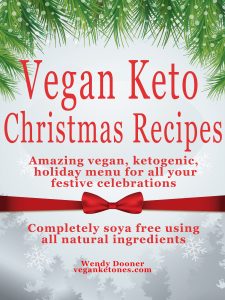 My daughter is also vegan keto so we had great fun cooking together and devising recipes. We created a vegan festive menu for Thanksgiving and Christmas and published it on Kindle. NO SOYA!
These recipes can be used all the year round so grab a copy, written by vegans for vegans.
We plan on creating a full vegan ketogenic book with everything you need to embark on this lifestyle. No more having to adapt vegetarian recipes and find vegan recipes that don't include soya
I've been a bit lazy creating new recipes since I got back from Australia, just been using the ones I already have.
I did discover a great way of adding protein to my diet though. Add a couple of tablespoons of unflavoured protein powder (I use Pulsin) to my pancake recipe and adjust the water accordingly.
Getting the micros in on a vegan keto diet can be challenging and we'll be writing an article shortly to help with this.
I've now broken the 80kg/180lb barrier and dropped 3 dress sizes. Rarely feel breathless from asthma and I still have my sense of smell (which came back after 20 yrs).
So next up for me?
Get creating more recipes! I'm  going on an 8 day cruise on the 20th January. I've been told the food is "crap" for "normal" vegan diets so I've no idea how I'll fare. My choice will probably be to stay keto and eat eggs and cheese or, stay vegan and have to start again when I get home.
What would your choice be? Leave your answers in the comments below!