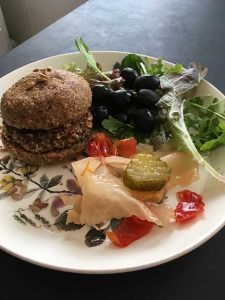 So you made your bread rolls and fancy a burger/rissole type food to put in it. These Keto vegan burgers are perfect for the job!
Very simple to make and packed full of goodness, PLUS a low carb burger, what's not to like.
Use for packed lunches!
One of the problems I get asked frequently is what can I have for a packed lunch. These are great because they are just as tasty cold. You can make a big batch and freeze. either raw or cooked, either way works.
My favorite way to serve these Keto vegan burgers is in a bread roll with a simple salad of mixed leaves, cucumber, and olives. A splash of avocado oil and spray of balsamic vinegar.

Keto Vegan Burgers
Print Recipe

Add to Shopping List

This recipe is in your Shopping List

This recipe has been added to your Meal Plan
A filling healthy and tasty burger substitute, a perfect accompaniment to the bread rolls
Keto Vegan Burgers
Print Recipe

Add to Shopping List

This recipe is in your Shopping List

This recipe has been added to your Meal Plan
A filling healthy and tasty burger substitute, a perfect accompaniment to the bread rolls
½

cup

mixed ground seeds

¼

cup

chopped nuts

I used almond and pecan

¼

cup

peanut butter

1

Tsp

dried sage

1

Tsp

veg stock powder

1

pinch

salt

¼

cup

water

Oil for frying

I use coconut
Mix all the ingredients together well.

Form into balls, then flatten to make a burger shape.

Fry in the coconut oil till cooked through